Blood and all, it's like a series of reincarnations that allows Nevena – or whatever her name should be now – to escape the constraints of patriarchy, switch gender and sometimes species, and be played by a range of actors too including Noomi Rapace and Alice Englert. the two best known names of the cast.
The idea isn't entirely new, but it's promising, and Stolevski isn't afraid to go where it takes him: the protagonist, for example, experiences sex from both male and female perspectives. But much of it feels undereducated, too raunchy for its own good, as if the company we glimpse is little more than a backdrop for a spiritual journey.
In fact, the strained relationship between Maria and her former student is almost the only source of real drama. Almost everything else is impressions stitched together by whispering voice-overs in the vein of Terrence Malick, with subtitles somewhere between Joycean stream of consciousness and Yoda-speak: "I see new rivers opening within me. Wow, they're rushing in."
Aside from the Academy's boxy aspect ratio, Stolevski and cinematographer Matthew Chuang borrow heavily from Malick's repertoire of visual mannerisms (off-center close-ups, actors hand-held from behind). To be fair, Malick never gave us a scene with a series of masturbating men being surreptitiously watched by a witch in the guise of a dog, although even that isn't as graphic as you might imagine.
Mark Bradshaw's score, with its hymn-like piano melodies, reinforces the sense of archaic religiosity – which is odd in a way, considering Christianity's apparent primary role as a witch-hunting force.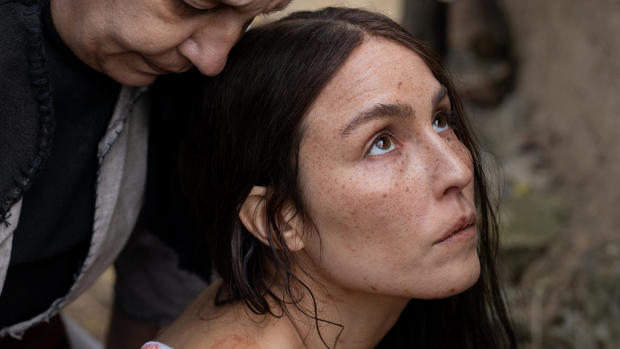 But it underscores the paradox of a film that is intended to be somewhat provocative, yet retains a certain softness, even sentimentality. This is the story of a seemingly innocent woman whose freedom depends on her ability to use violence – but the implications are never adequately explored.
Instead, we are left with the notion of a heroine or hero who is everybody and nobody, permanently alienated and yet all-encompassing. This is perhaps a symbol of what it means to be an artist – although I'll give Stolevski the benefit of the doubt as the idea somehow gives me more chills than blood.
A cultural guide to going out and making love in the city. Sign up for our Culture Fix newsletter here.