Former University of Huskies offensive lineman Mattland Riley, the Roughriders' 2020 first-round pick, has retired from football.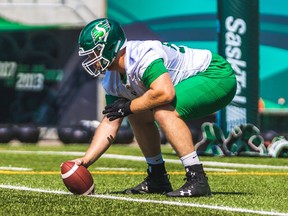 content of the article
Offensive lineman Mattland Riley, the Saskatchewan Roughriders first-round pick (seventh overall) in the 2020 CFL Draft, has decided to retire from football.
content of the article
Riley played U Sports Football with the University of Saskatchewan Huskies. The 25-year-old Melfort product played in a game with the Roughriders in 2021.
The Roughriders also announced the retirements of two other Canadians (running back Jonathan Femi-Cole and wide receiver Terrell Jana), global defensive lineman Christopher Ezeala and American offensive lineman Bryce Hargrove on Monday.
Also, the Roughriders added six Americans — receivers Dieuly Aristilde Jr. and Charles Headen III, and defensemen Benjamin Davis, Kailon Davis, Ezekiel Rose and Justin Thomas.
American receiver Ricardo Louis, who had 18 catches for 213 yards and two touchdowns in nine games last season, was fired.
Also on Monday, the Roughriders announced the signings of six of the eight players they picked in the CFL draft 3rd. Jayden Dalke (sixth) and Zach Herzog (seventh) and University of Regina Rams wide receiver Riley Boersma (eighth).
Saskatchewan's first-round pick, receiver Samuel Emilus, will attend next week's rookie mini-camp with the NFL's Arizona Cardinals.
Offensive lineman Diego Alatorre Montoya, who was selected in the third round, remains unsigned.
The Roughriders' rookie camp is scheduled to take place in Saskatoon from Wednesday to Friday, where – apart from a work break – the main training camp is scheduled to start on Sunday.
content of the article
Offensive linemen Connor Klassen and Riley Schick, linebacker Konner Johnson and defensive lineman Reece McCormick will attend Riders Camp as territorial juniors. Klassen, Schick and McCormick are members of PFC's Regina Thunder. Johnson is with the Saskatoon Hilltops.
SMOKE CELEBRATES
Team Smoke of Regina's Rebels Cheerleading Athletics was named Sask Sport Inc.'s Athlete of the Month for April.
On April 25, Team Smoke became the first Saskatchewan-based team to win gold at Cheerleading Worlds in Orlando, Florida. Smoke won the International Open Level 5 Division, which included 26 other teams.
BADMINTON'S BEST
Eight teams from the Regina High Schools Athletic Association have qualified for the Saskatchewan High Schools Athletic Association Badminton Championships to be played in Rosthern on Saturday.
The Regina representatives, decided May 6 in Whitewood, are as follows: Nataly Eng (O'Neill) and Sophie O'Neill (Campbell), girls singles; Jon Kozak (LeBoldus) and Jung Cai (Campbell), boys singles; Jenny Liu and Jiayan Cau (Campbell), girls doubles; Caleb Woodrow and Mathew Takach (LeBoldus) and Daniel Xu and Jackson Lai (Campbell), boys doubles; and Duane Sicat and Althea Pesquera (O'Neill), mixed doubles.
The sports world is constantly changing, and so are the times. Supplement your regular sports coverage by subscribing to Regina Leader posts 306 sports fix Newsletter. Each week, Sports Editor Rob Vanstone will provide additional commentary on the Roughriders, Pats and other teams/sports of interest, along with a behind-the-scenes look. Click here to login.